Welcome to Departure Plan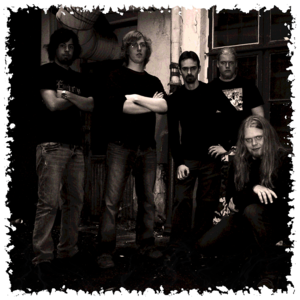 Departure Plan (stylized as "DP") was a fictional Norwegian progressive metal band, akin to Spinal Tap and Boyzvoice. The project was led by a group of Oslo students who poked fun at metal band tropes such as excessive lineup changes, perpetual recording sessions and pompous song titles. This website is maintained to preserve the history of the collective's activities between 2003 and 2006.
News
Interview with Kristoffer Øyen
A new Departure Plan interview with Kristoffer Øyen can be found at Beat The Blizzard.
Live at Gamla
Departure Plan at Gamla in Oslo May 26th, along with Highland Glory and Sundown.
Recent updates from Departure Plan
Since the previous updates, (november 2005, can you believe it?) a lot of things has happened in the Departure Plan music world. After a long time search for a bass player, our previous keyboard player Ketil Ronold has taken over the duties on the Bass. Which the band is very happy with. And for now, the keyboards will be done by the highly skilled Espen Storø, previously known from Circus Maximus. With this new line-up, we will do our first gig for a long time, at Gamla in Oslo May 26th, along with Highland glory and Sundown (previously known as Grand design). We are looking forward to this gig with exitement, not only to check out our new line up, live, but also get feedback from the audience, about our music, which will be included on our debut album. Hope we will see you there.
The Departure Plan recording session
There is no secret that the recordings on our debut album has been moving very slow lately. There is a number of things that has slowed down the process.
Departure Plan seeks new Bass player
Departure Plan seeks new bass player after Øystein decided to leave the band. The band respects his decision and no hard feelings are involved. The band is now holding auditions and if you're interested please contact the band at band@departureplan.net. If you think you got the skills, don't hesitate to come and have a relaxed jam with the band.
Mp3 available
This is a full-length demo from the song desperate cry. The recording is old but we have added Jan Thores voice on it. The mix is done roughly, but the purpose is to give everybody an impression of what we working on. None of the recorded material on this song will be used on the album. The file is found in the download section. Enjoy!
Drums
All drums are now recorded, and Departure Plan will start recording bass and guitar soon.
Interview
An interview with Steffen on heavymetal.no can be found in the press section.
Hallo everyone!
Sorry for the lack off updates lately, but the summer has been very busy in the departure plan camp.
Live at Rock In
Departure Plan will be playing at Rock In 16.06.05 supporting Magic Pie. The event is being held by Metal Express Radio. More info will be posted soon..
Reference
The Departure Plan debut album will be finished July the 1st. The Album title is "Reference" and will feature eight songs.
Album progress report
The band is currently finishing up the recording of their debut album, and hopefully it will be out in June 05. The title of the record is still unknown, but we will keep you updated with more info shortly. Departureplan.net is currently under heavy construction, but everything should be in place in a couple of weeks. Stay tuned!!!
Gig review
A review of the Rock In gig is available in the press section.